We hold ourselves to the highest standards when choosing ingredients and formulations that support our health and the well being of the Earth. No synthetic chemicals are used in our manufacturing process and no products are ever tested on animals. We believe in complete transparency, standing by each and every one of our ingredients and the processes that go into making our products.
With an artisanal approach, we lovingly craft premium, high performance skincare using the purest botanical extracts that are blended with both care and intention to deliver beautiful looking skin. We use cold pressed botanicals oils to formulate our products, to preserve the nutrients and enzymes and to ensure maximum nutritional content in each and every product.
No Parabens, No Synthetic Fragrances, No Mineral Oils, No Phthalates, No Sulphates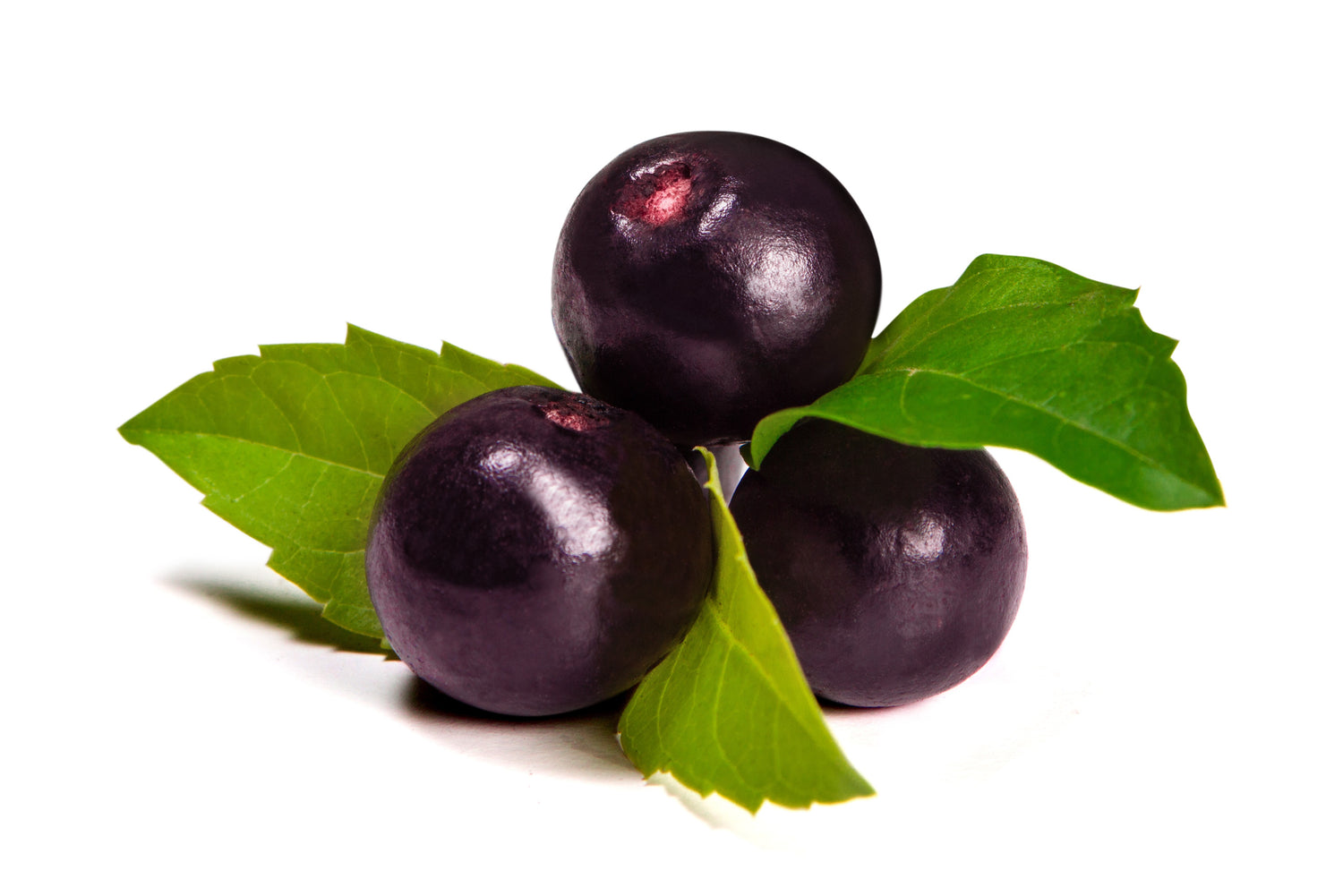 Açaí (organic)
(Euterpe Oleracea Seed Extract / Fruit Oil)
From Igarape Miri, Brazil
A small deep purple color berry which is a potential source of antioxidants, which includes ferulic acid and epicatechin. Acai consists a higher antioxidant content than many other berries available and therefore is considered to be the best antioxidant to choose for your skincare products. Also rich in phytonutrient and a good source of essential fatty acids. It can help boost skin radiance.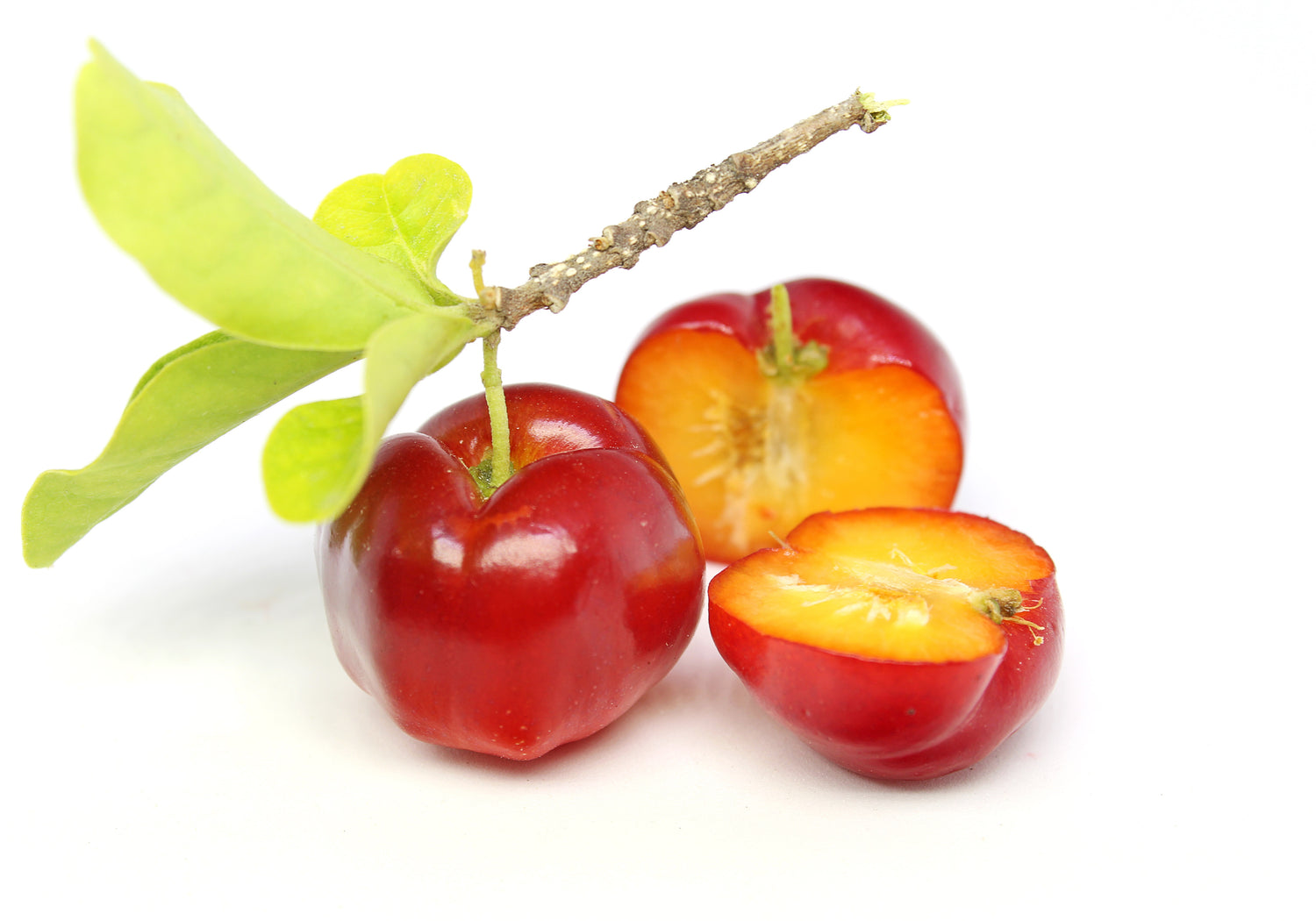 Acerola Cherries
(Malpighia Emarginata Fruit Extract)
From Pará, Brazil
Full of antioxidants and vitamin C, acerola cherry extract eliminates free radicals and boosts collagen production for younger-looking skin that retains firmness and elasticity. Also said to enhance capillary strength, it protects and repairs skin.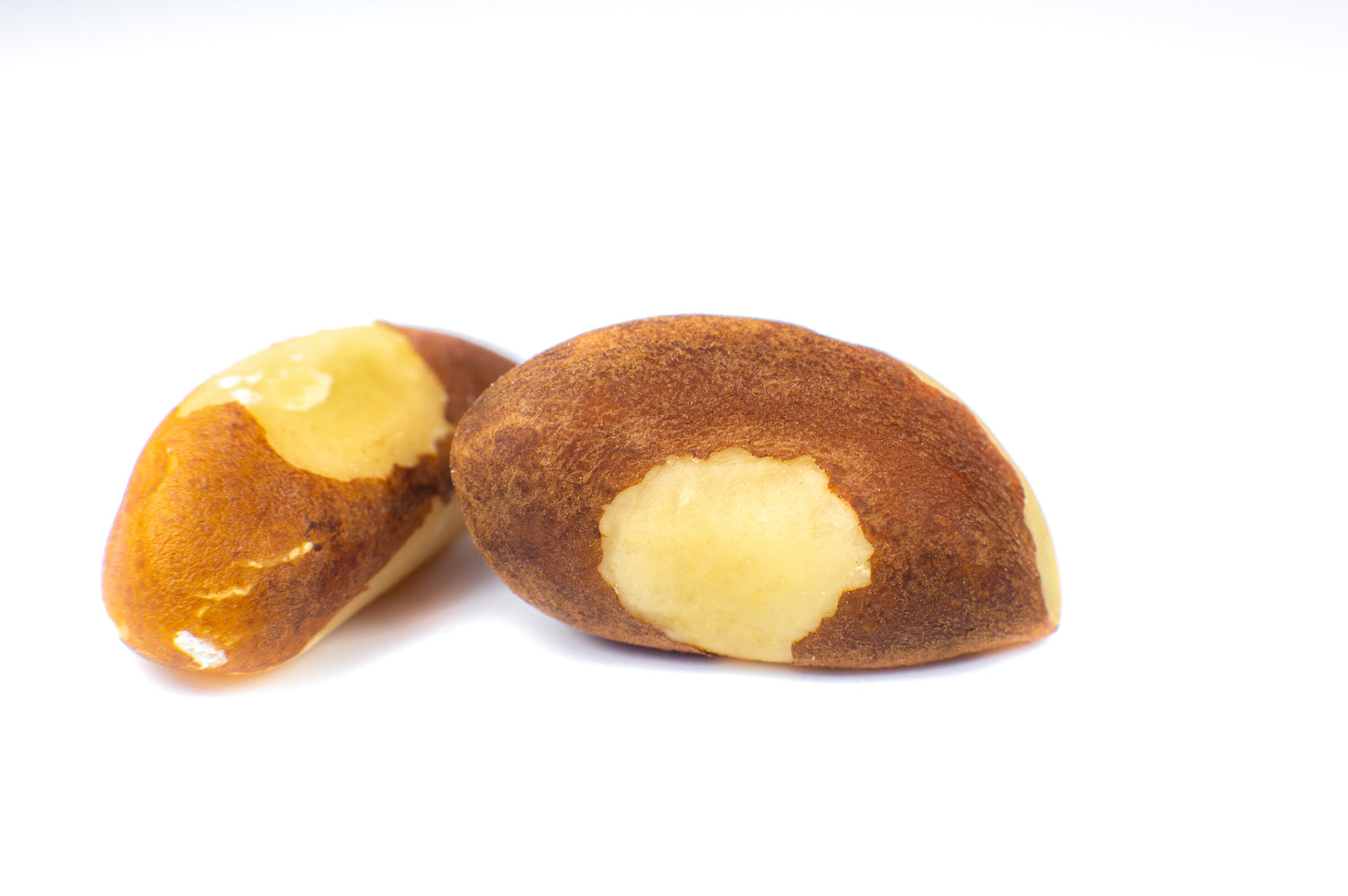 Brazil Nut (organic)
(Bertholletia Excelsa Seed Oil)
From Oeiras Do Pará, Brazil
Selenium in Brazil nuts speeds up the cell turnover process, providing a natural glow to the skin. The high levels of antioxidants in Brazil nuts stimulate the production of glutathione, which combats free radicals that can damage the skin collagen.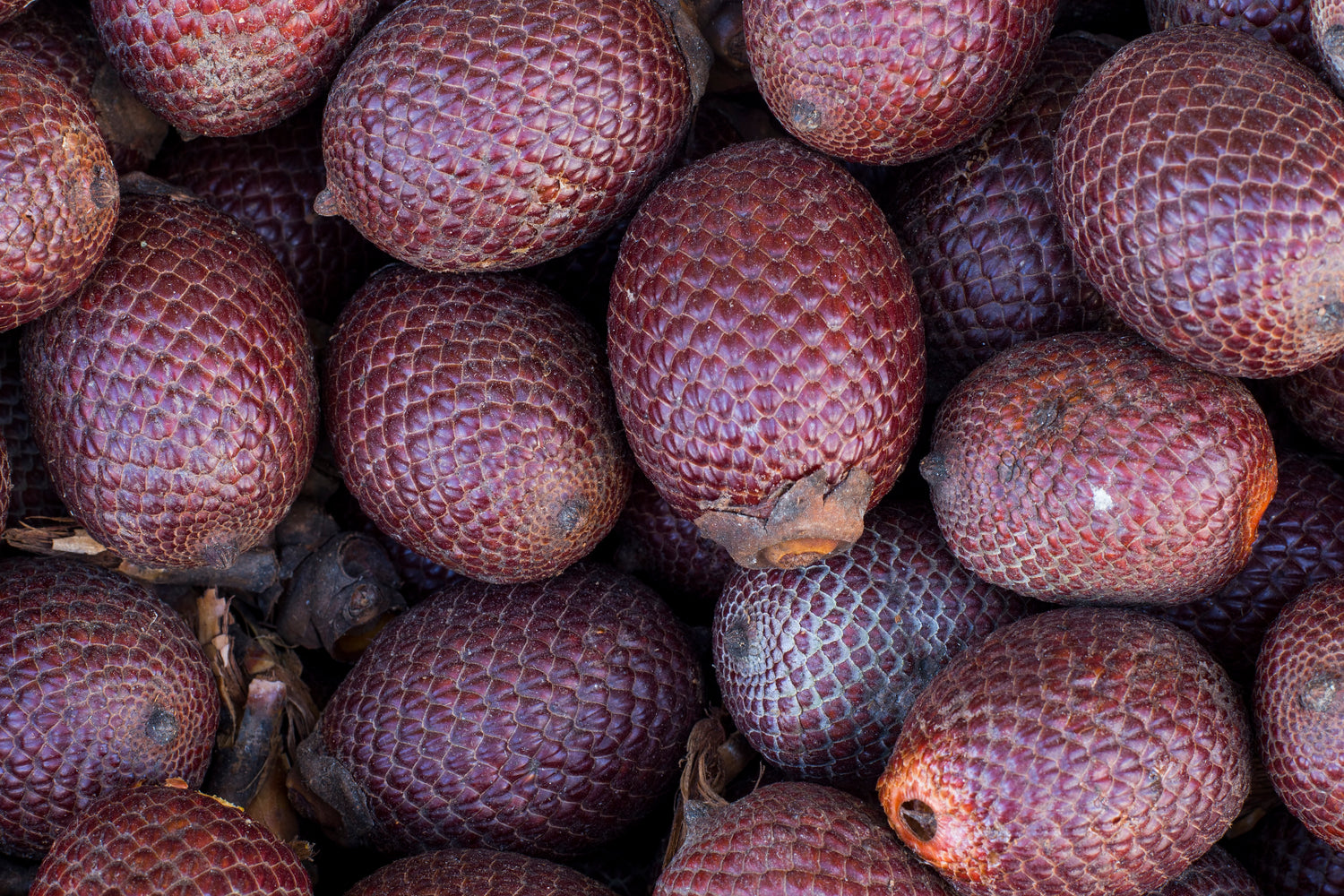 Buriti (organic)
(Mauritia Flexuosa Fruit Oil)
From Piauí, Brazil
Comes from the Moriche palm tree in the Amazon rainforest and is extracted from the pulp.  It is very rich in Vitamin A and Beta Carotene, Omega 3, 6, and Essential Fatty Acids. It is a potent anti-oxidant, reduces redness, softens fine lines and wrinkles, and restores skin elasticity.  It is remarkably nourishing and strengthens cell membranes for longer cell life. It is also known to help lighten dark spots caused by sun exposure and protects against further photo-damage.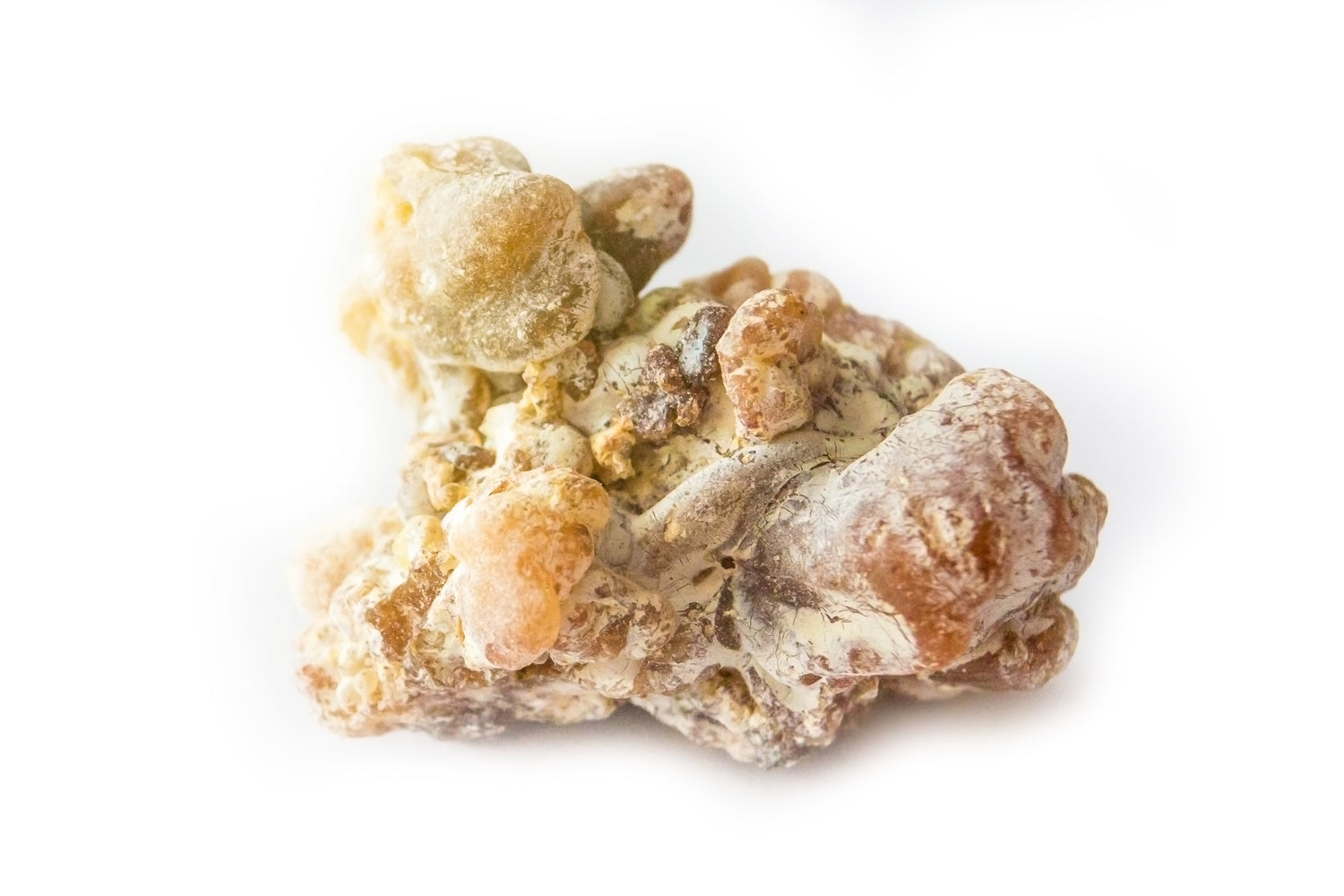 Copaíba (organic)
(Copaifera Officinalis Resin)
From Oriximina & Alenquer, Brazil
An exceptionally rare and vital resin that is extracted from the Copaiba Balsam Tree. The unique combination of multiple chemical compounds that are typically found one at a time in strong smelling and highly protective, anti-inflammatory, anti-bacterial, anti-fungal, and anti-germicidal Essential Oils such as clove, hemp, rosemary, & hops.  This resin is therefore extremely powerful and recommended for treating acne, eczema, psoriasis.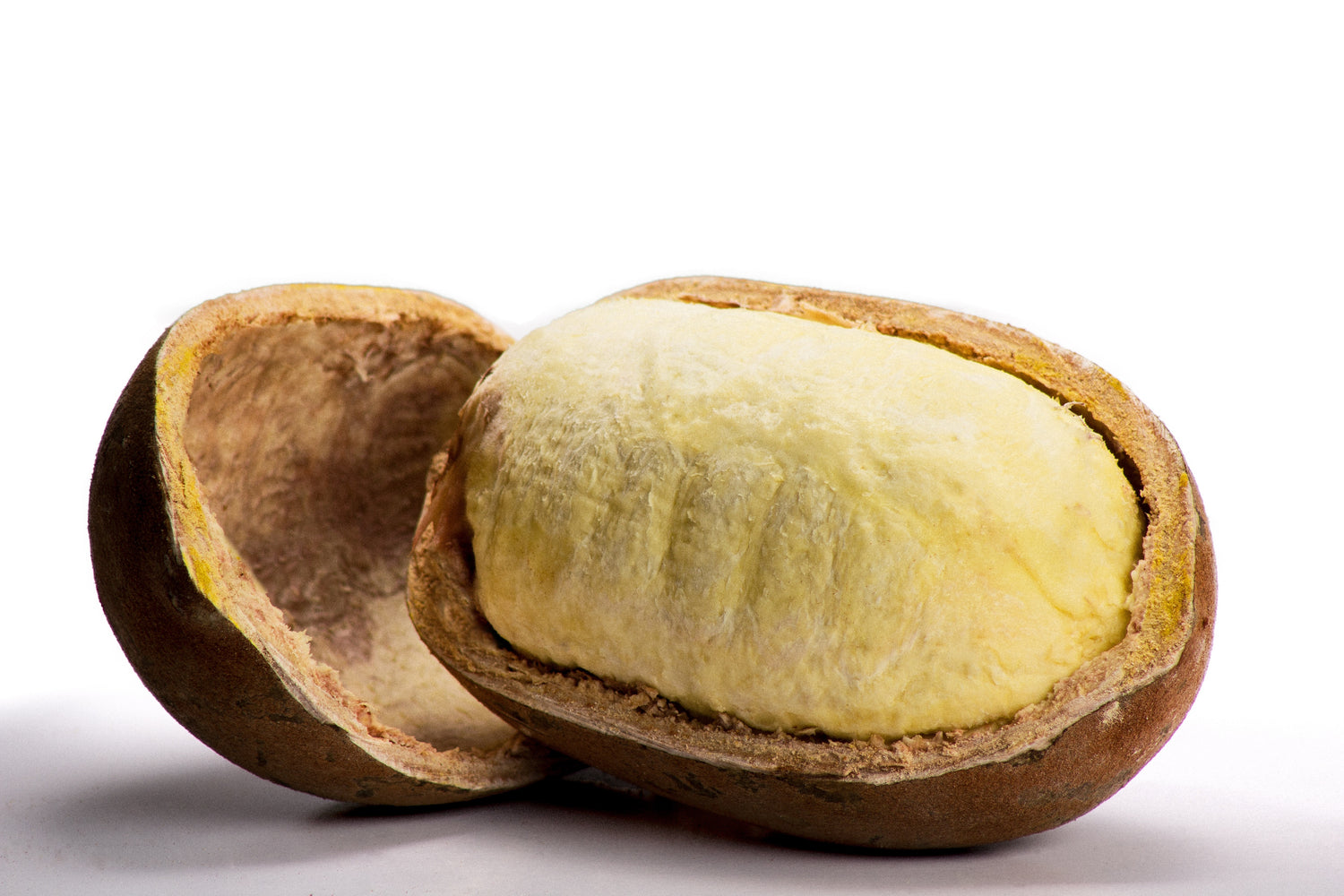 Cupuaçu (organic)
(Theobroma Grandiflorum Seed Butter)
From Tomé-Açu, Brazil
An excellent emollient that restores elasticity to the skin while providing anti-oxidants and hydration. It is considered a "super-moisturizer" because of its water-loving properties. As it carries water to the skin, it makes skin supple, soft and more elastic.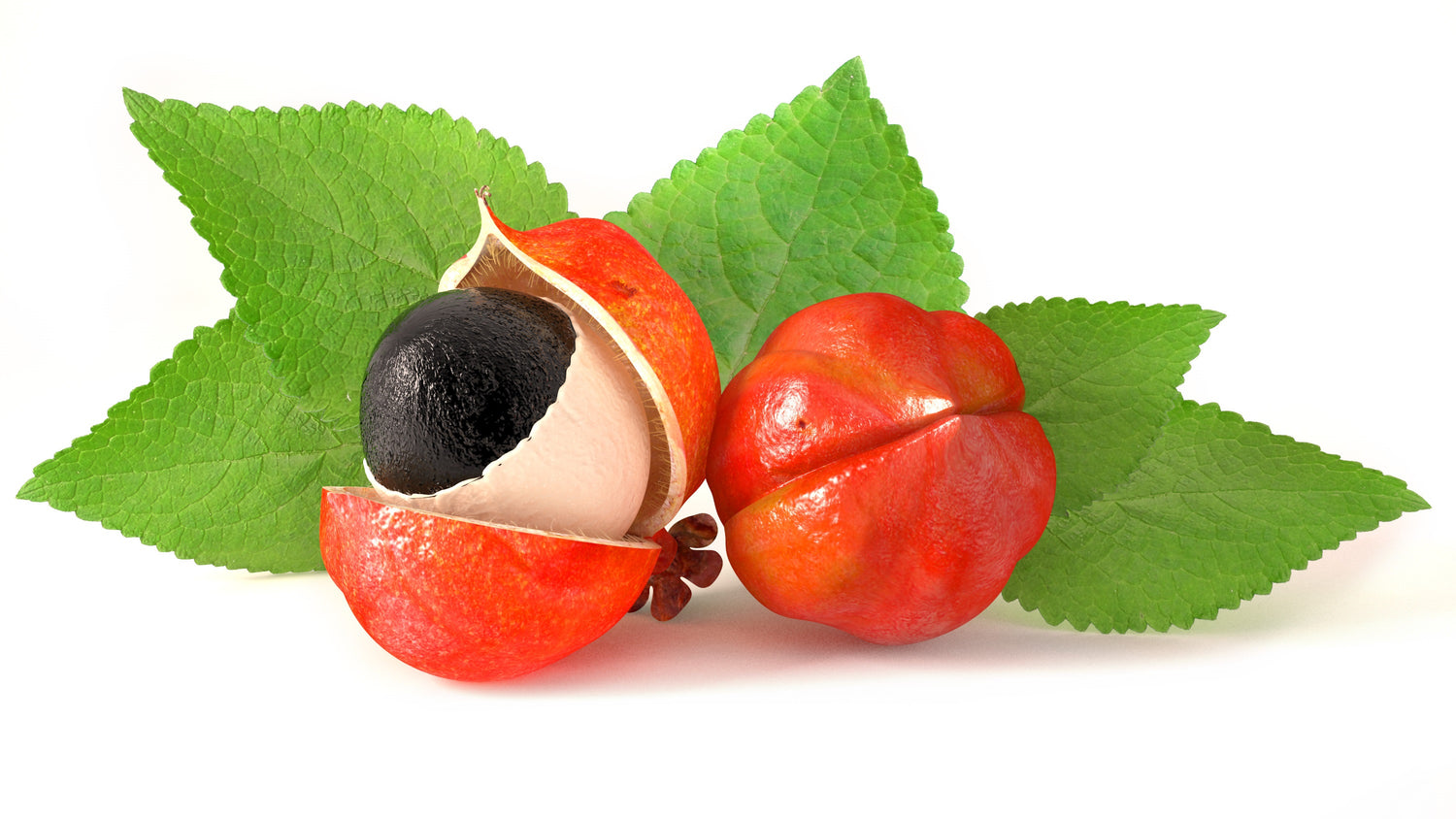 Guaraná
(Paullinia Cupana Fruit/Seed Extract)
From Satere-Mawe, Brazil
Contains many antioxidants including caffeine, catechins, theobromine and theophylline which offer many anti-aging benefits including the tightening and moisturizing of the skin in a natural and effective way. Further, it reduces puffiness and smooths the skin, creating a youthful glow.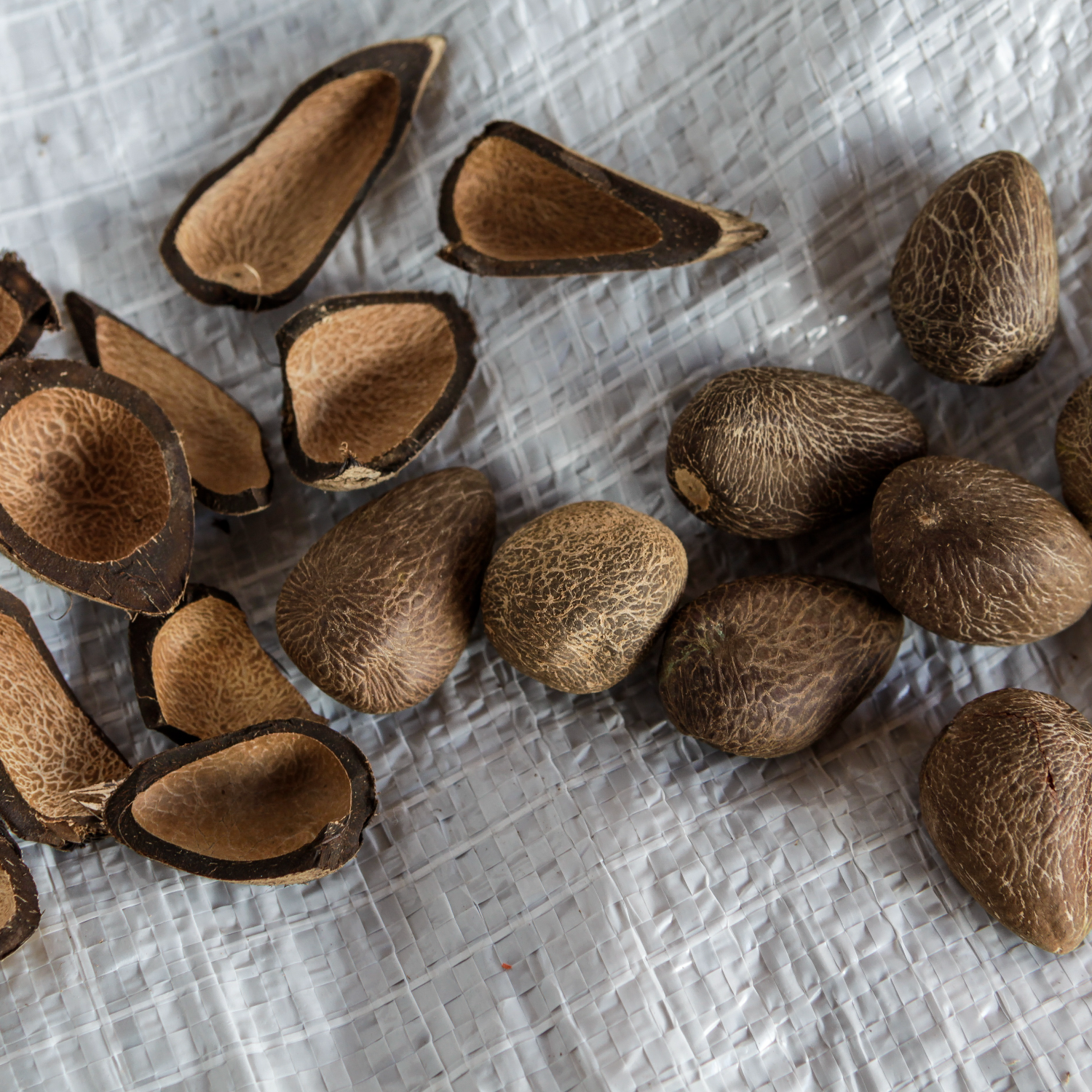 Murumuru (organic)
(Astrocaryum Murumuru Seed Butter)
From Breves, Brazil
Has natural anti-inflammatory properties that help to soothe sensitive or irritated skin, sealing in moisture and nourishing cracked skin. With its high Vitamin A content, it has great anti-aging benefits.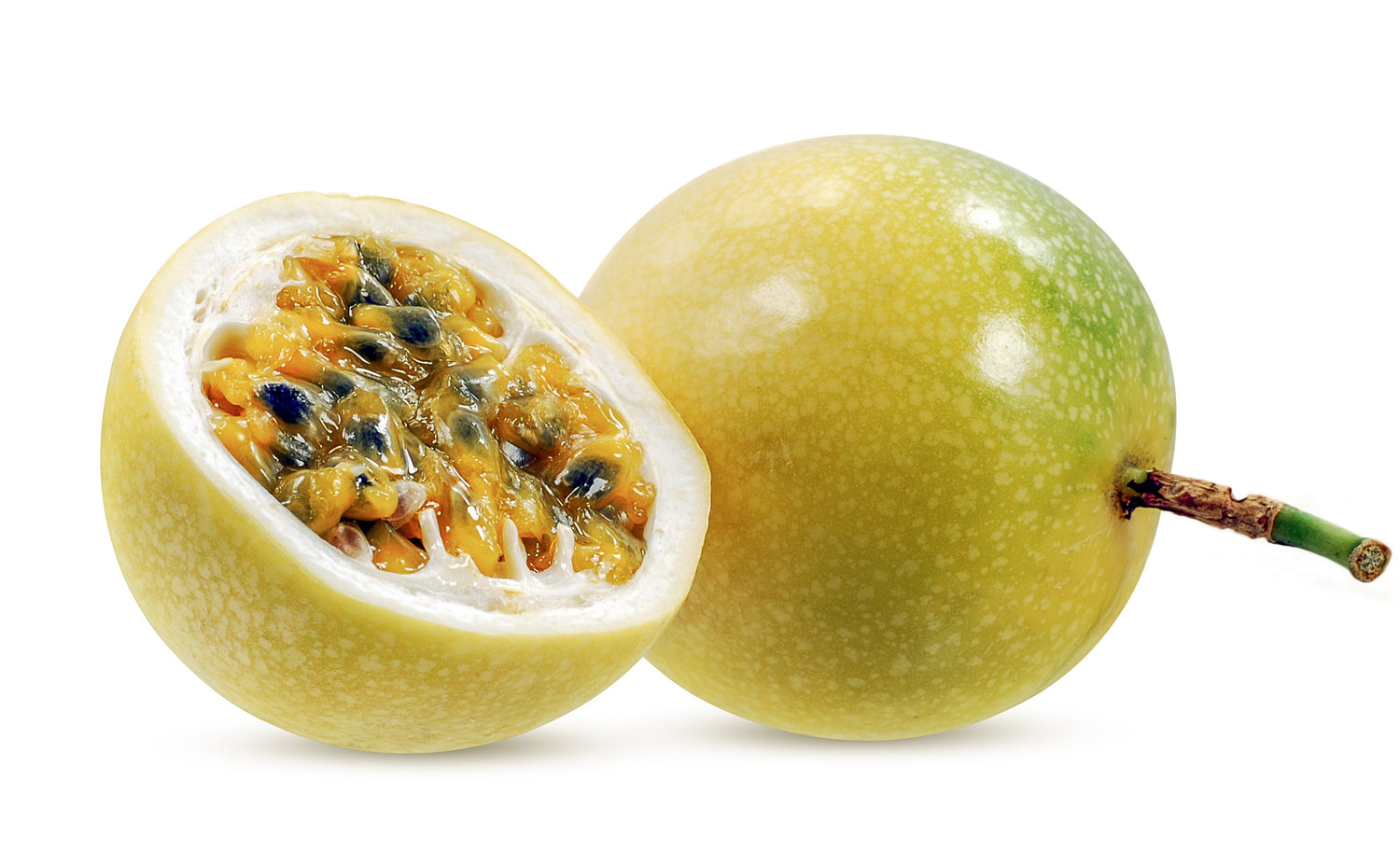 Passion Fruit
(Passiflora Edulis Seed Oil)
From Parauapebas, Brazil
This superfood contains Vitamin C, Vitamin A which are great for anti-aging. These two antioxidants along with riboflavin and carotene can help skin retain moisture and improve blood flow, making it look younger and prevent visible signs of aging and wrinkling.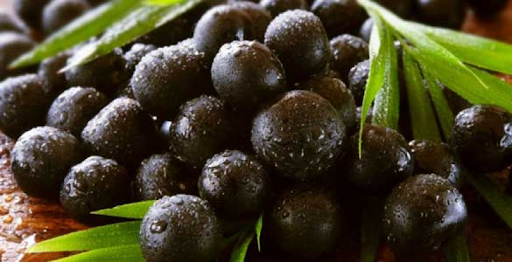 Patauá (organic)
(Oenocarpus Bataua Seed Oil)
From Anajás, Brazil
A powerful moisturizing agent with a high content of oleic acid (Omega-9) and unique properties such as light texture and easy absorption. It also has anti-aging and skin-firming properties due to its rich vitamin E, vitamin A and amino acid protein content.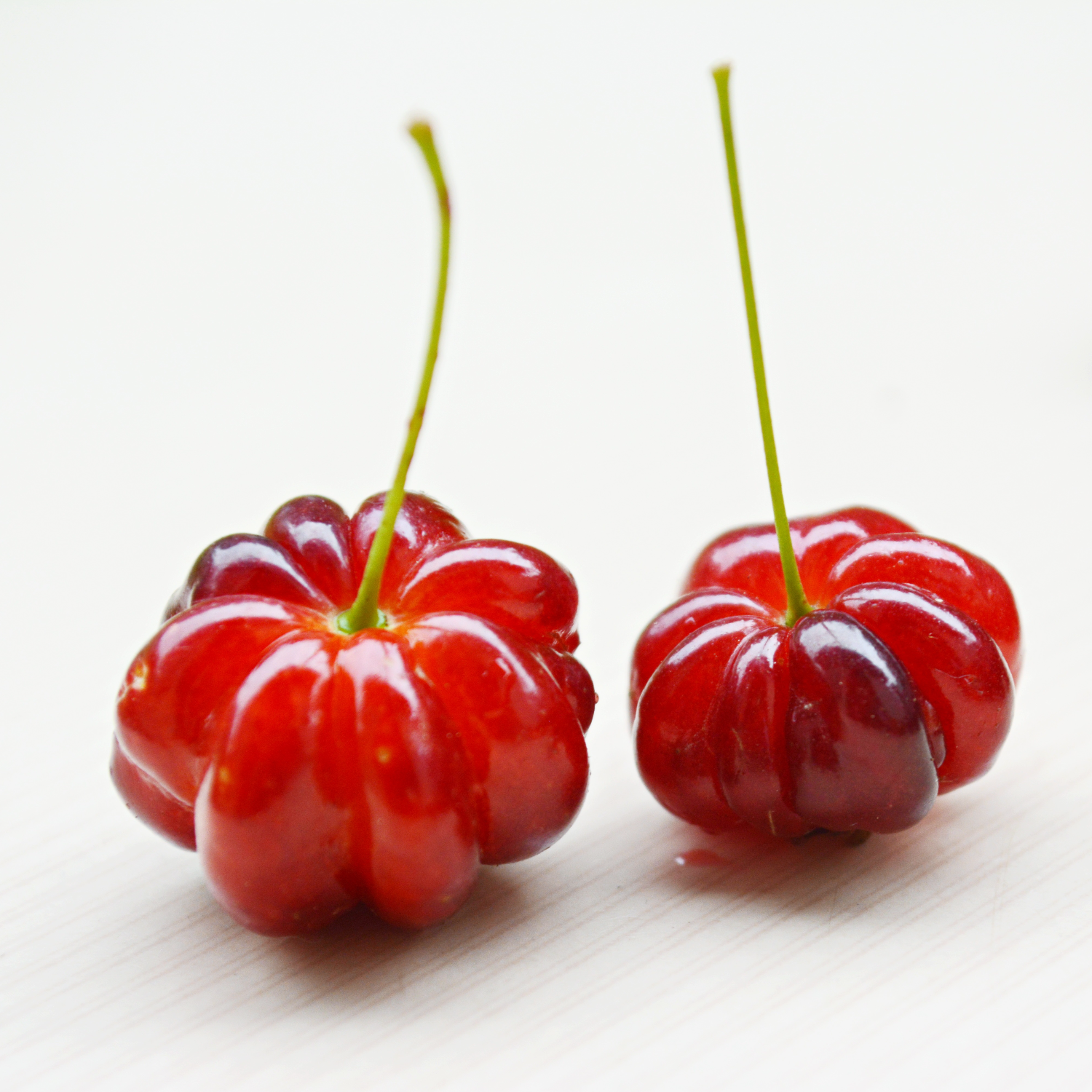 Pitanga
(Eugenia Uniflora Leaf Oil)
From Pará, Brazil
Also known as the Brazil cherry, this fruit has a beautiful look and a delightful fragrance. It is best known for its refreshing, soothing and softening of the skin properties. Rich in vitamins and alpha hydroxy acids which are used for skin rejuvenation and improving the appearance of everything from acne to wrinkles.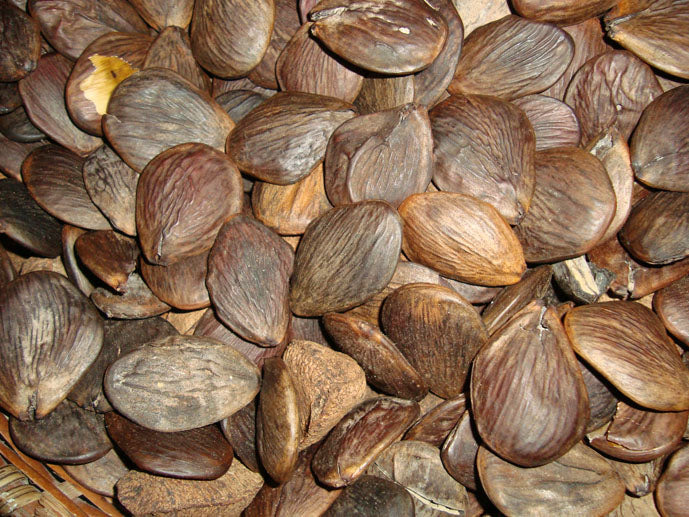 Pracaxi (organic)
(Pentaclethra Macroloba Seed Oil)
From Breves, Brazil
Has a high content of behenic acid and is used to lighten skin and lower the appearance of scars. It has antifungal, antibacterial and antiseptic properties that alleviate itching and redness and is helpful for blemished and irritated skin.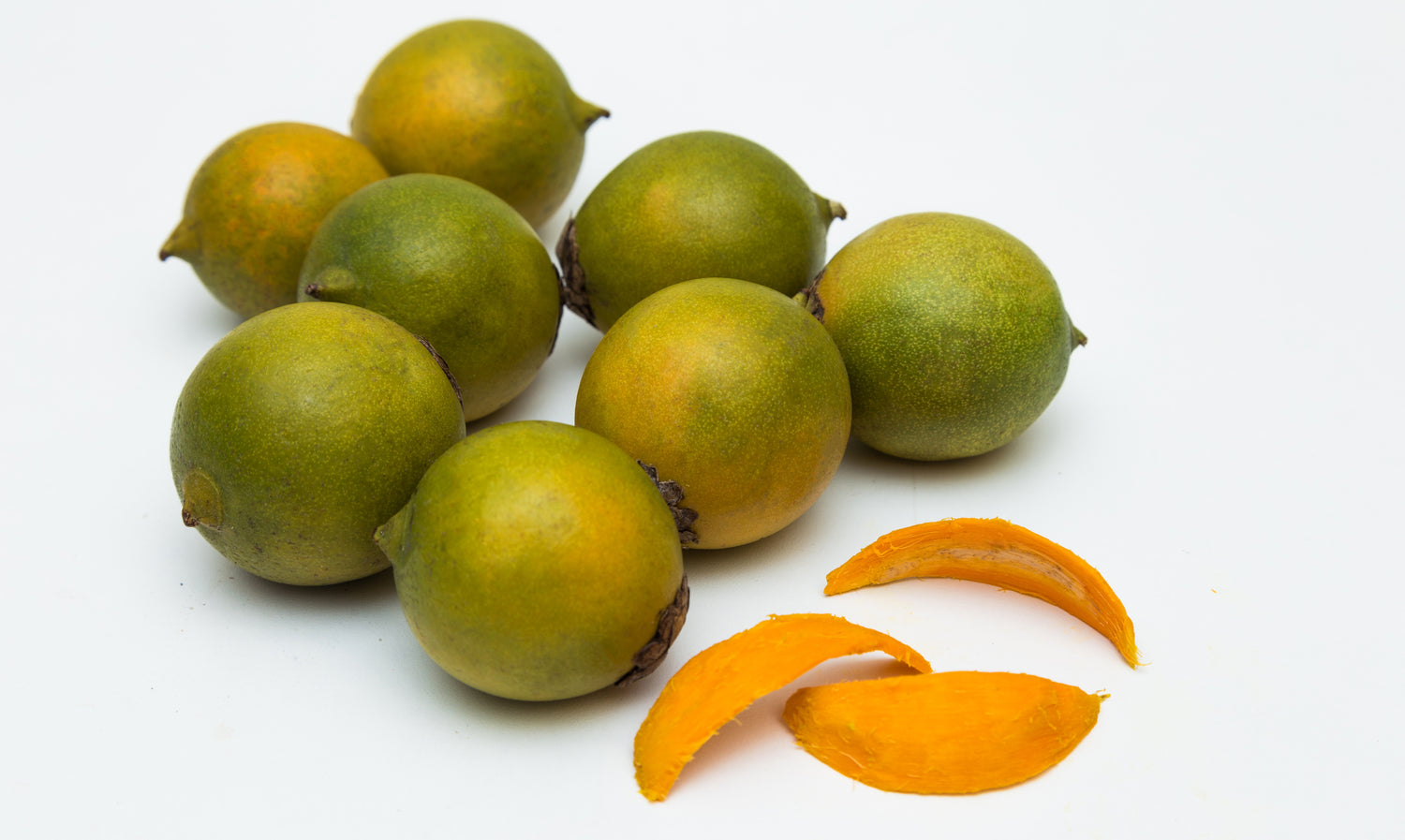 Tucumã (organic)
(Astrocaryum Vulgare Kernel Oil)
From Bragança, Brazil
Rich in polyphenols and carotenoids, Lauric, Myristic and Oleic (Omega-9) acids that provide antioxidant, anti inflammatory, antibacterial and antifungal properties. It lightens and diminishes the appearance of dark spots, scars and stretch marks and promotes more beautiful-looking skin.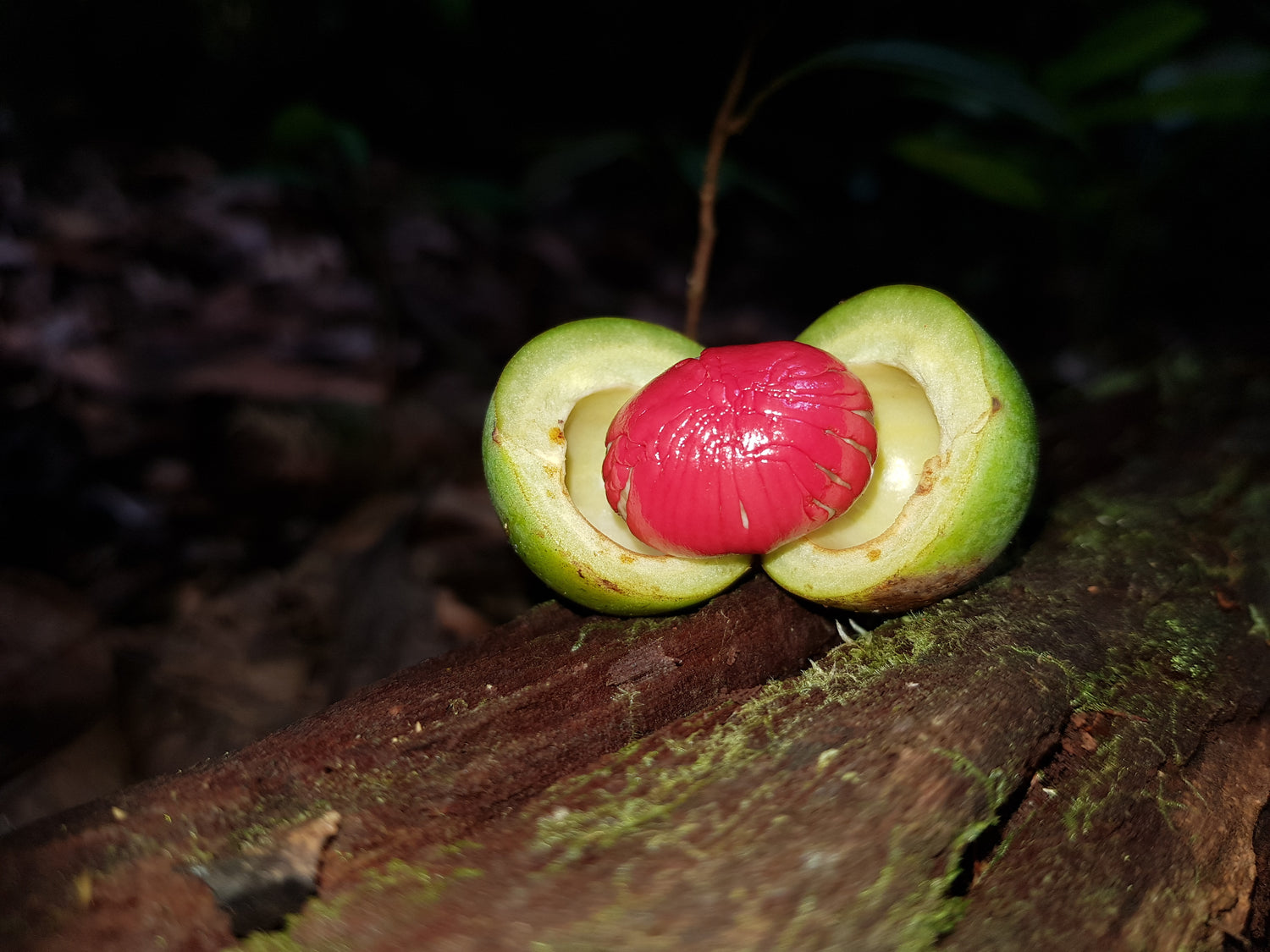 Ucuuba (organic)
(Virola Surinamensis Seed Butter)
From Salvaterra, Brazil
Exceptionally rich in essential fatty acids, it can be used to replenish, tone and moisturize dry and mature skin. It helps to retain water inside the cells for longer, keeping the skin hydrated, plump and elastic. The butter softens the skin and maintains that smoothness for a longer time, also helping it to appear more radiant with fewer lines and wrinkles.
OTHER KEY INGREDIENTS
Apple (Purys Malus Fruit Extract)

Packed with nutrients, vitamins and antioxidants that help protect against UV radiation and lead to younger looking skin. It is also rich in vitamin C, which prevents premature aging and promotes healthy, radiant looking skin.

Apricot (Prunus Armeniaca Fruit Extract)

A lightweight, but rich oil. It is high in both oleic (Omega 3) and linoleic (Omega 6) acids. It is known to be beneficial for mature, sensitive, dry, and/or inflamed skin.  This oil is also rich in Vitamins A & E.

Ashwagandha (Withania Somnifera Root Extract)

Has both antibacterial and antimicrobial properties which are essential in fighting the creation of new impurities and effective in remedying active blemishes. It also has the capability to boost collagen production in the skin which prevents visible signs of aging.

Bergamot (Citrus Bergamia Melaros Leaf Oil)

Thanks to its antibacterial properties, it is a natural cleanser. It's particularly good for oily skin, helping to unclog pores and balance sebum levels.

Blackberry (Rubus Fruticosus Fruit Extract)

An excellent source of antioxidants like anthocyanins that help the skin fight the effects of free radicals, reducing damage to the skin cells.

Blueberry (Vaccinium Angustifolium Fruit Extract)

Potent polyphenol antioxidants can help protect against free radicals; a rich source of phytonutrients and fatty acids to help promote beautiful skin.

Castor Seed Oil (Ricinus Communis Seed Oil)

Contains anti-inflammatory, antibacterial and anti-aging properties which make it a uniquely powerful ingredient. It is highly moisturizing, attracting moisture from the air and trapping it close to the skin while helping to restore a natural moisture balance.

Cocoa (Theobroma Cacao Seed Butter)

Used for centuries to soothe, heal, and moisturize skin that has been exposed to the dry environment and sun. It contains a high proportion of stearic and palmitic acids, which are the most common fatty acids found in nature, but typically found in animal fats in this proportion.

Coconut (Cocos Nucifera Oil)

It moisturizes skin and reduces protein loss. This oil contains a large proportion of lauric acid which may be a contributing factor to it being helpful in reducing the appearance of acne. 

Coffee (Coffea Arabica Seedcake Extract)

Contains a high concentration of essential fatty acids, sterols, and vitamin E, making it a potent antioxidant that can offer protection against visible signs of skin damage.

Grape (Vitis Vinifera Fruit Extract)

A lightweight oil that is exceptionally nourishing with high levels of Vitamin E & EFA's.

Green Tea (Camellia Sinensis Leaf Extract/Oil/Wax)

Potent antioxidant that can help promote beautiful skin.

Guava (Psidium Guajava Leaf Water)

Contains a wide range of vitamins and antioxidants which may protect skin from damage and slow down the appearance of the aging process by helping to visibly prevent wrinkles, rejuvenate the skin and improve the complexion of skin.

Hyaluronic Acid (Sodium Hyaluronate)

Derived from vegetables, it has numerous benefits for the skin including retaining moisture, reducing the appearance of wrinkles and working as a filler adding volume to the skin. It is fast absorbing and non-irritating.

Jojoba (Simmondsia Chinensis Seed Oil)

A rich source of numerous fatty acids, jojoba oil can also provide topical skin-soothing benefits.

Lavender (Lavandula Officinalis Flower Oil)

Soothes skin, improves the appearance of acne, protects against free radicals and combats bacterial and fungal disorders.
Mango (Mangifera Indica Seed Butter)

Nourishes and helps soften lips and is a great alternative to petroleum based products.

Marigold (Calendula Officinalis Flower Extract)

Gentle and non-irritating, it is also has natural anti-inflammatory properties. It contains linoleic acid (omega-6 fatty acid) which keeps the skin supple, moisturized and nourished from the inside out.

Mimosa (Acacia Decurrens Flower Wax)

Known for its skin conditioning and protecting properties. Moisturizes and repairs the skin.

Olives (Hydrogenated Olive Oil Unsaponifiables)

Can deeply moisturize and help soften the skin.

Orange (Citrus Aurantium Dulcis Fruit Water)

Rich in vitamins, lycopene, phytonutrients, flavonoids and citric alpha-hydroxy acids; provides powerful antioxidant activity that can be beneficial in helping promote beautiful skin.

Papaya (Carica Papaya Fruit Extract)

Acts as a strong skin exfoliator, removing dead cells, which can make the face lighter in tone and appear more supple. In addition, the abundance of beta-carotene and plant compounds enhances the skin glow and complexion.

Quinoa (Chenopodium Quinoa Seed Extract)

Rich in Vitamin B, it helps brighten and enhance the skin. It also adds texture to the skin and rejuvenates it, making your skin richer and more vibrant. High levels of riboflavin give added elasticity for softness and resiliency.

Raspberry (Rubus Idaeys Leaf Extract)

Rich in vitamins, hydroxy acids, phenols which provide potent antioxidants that can help promote beautiful looking skin.

Rose Geranium (Pelargonium Roseum Leaf Oil)

Naturally firms up and tightens facial skin without reducing moisture and suppleness , and can also reduce the appearance of fine lines and wrinkles.

Strawberry (Fragaria Vesca Fruit Extract)

Rich in gamma tocopherol, linoleic and oleic fatty acids to help nourish the skin.

Sunflower (Helianthus Annuus Seed Cera/Oil Unsaponifiables)

Rich source of Vitamin-E with emollient, softening and moisturizing properties.

Turmeric (Curcuma Longa Callus Lysate)

Contains antioxidants and anti inflammatory components which can provide a glow and luster to the skin.

Vanilla (Vanilla Planifolia Fruit Extract)

Very rich in antioxidants which neutralize free radicals and reverse skin damage. It helps to slow down signs of ageing like fine lines, wrinkles, and age spots. It not only makes your skin rejuvenated but also smelling nice.